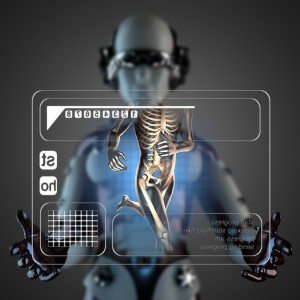 Your physician tells you that you need a vasectomy or hysterectomy and recommends that you have the procedure performed robotically. Instead of working directly with his hands, he will sit at a console manipulating a set of robotic arms outfitted with tiny surgical instruments. The number of these surgeries has risen dramatically; back in 2000 there were only 1000 of these surgeries world-wide. That number has risen to nearly 500,000 in the past few years. Advocators add that the practice is on the rise because of its strong benefits. They profess that there is usually less blood loss for the patient, shorter hospital stays, a reduced dependence on postoperative pain medication and a reduced scarring since the instruments enter the body through very small incisions. It sounds interesting doesn't it? But before you choose this option, take time to consider all of the pros and cons.
First of all, for surgeons, the procedures can be less tiring. They don't have to bend over an operating table—they can sit in front of a screen with a magnified, full-color 3-D view of the surgical field. The robot is able to operate in very tight spaces, like the back of the throat. "The enhanced screen image makes it much easier to see what I'm doing," says Eric Genden, chief of otolaryngology at New York's Mount Sinai Hospital.
Other physicians say robotics is catching on not only for its merits, but simply for the "wow" factor involved. It's no secret that we live in a society obsessed with new technology and we tend to rapidly embrace innovations. According to some critics this is not always a good thing and can lead to a lack of time spent on rigorous, standardized evaluation.
Hospitals are trying to get a competitive edge to attract new patients. They invest in websites and billboards that even suggest robots may improve cancer outcomes, a claim that many physicians say is not backed up by studies.
As always, ask your surgeon how experienced he or she is in the procedure and whether their patients have experienced any complications. The wisest approach is to have your surgeon explain the alternative procedures, including typical postoperative scenarios and why the suggested approach is the best option in your particular case. No single approach is a one-size-fits-all answer for all conditions requiring surgery.
One of the most common malfunctions found with robotics is something called "arcing." Arcing is when electrical currents leak out of the device during surgery causing sparks. This has caused some patients to experience post-operative complications such as perforated intestines, painful abscesses and other bodily injuries. In their defense they have implemented some changes to the robot. They replaced a part on all of these devices to help alleviate this problem; however, the arcing issue remains unresolved.
There has been some concerns from government officials about oversight as well. These concerns stem from an increasing number of reports of patient complications after and during robotic surgery. It seems that hospitals have yet to establish consistent protocols to properly determine which patients are the best candidates for the various robotic procedures. In addition, there is no exact number of surgeries a surgeon is required to perform before he or she is sufficiently trained. The risks obviously increase if a surgeon doesn't have the most advanced laparoscopic surgical skills and maybe doesn't have full command of the device. Any one of these factors has the potential of increasing the risk that a surgeon could cause inadvertent injury to the patient.
The primary manufacturer of robotic-surgery products, Intuitive-Surgical Inc., creator of the widely used "da Vinci robot model," disagrees with their critics. In spite of the increase in complaints regarding their equipment they continue to defend their product.
Currently, Intuitive is a defendant in approximately 50 law suits alleging product liability. One Washington State lawsuit alleges that the Intuitive sales people have very aggressive quotas to meet and in turn pressure physicians to convert more and more traditional surgeries to robotics. The company has refused to comment on any of the current lawsuits but promises that "we take all claims seriously, evaluate them on their merits and trust in the legal system to resolve these matters."
Several hospitals in Albuquerque use robotics, including UNM, Presbyterian and Loveless Health Hospitals. They have had success as well as failures, but I was unable to find published statistics regarding our local hospitals. Just be sure to openly discuss these procedures with your surgeon in order to make an informed decision.